Stay up to date with the latest news from Gulch Distillers.
Posted on June 25th, 2019 in
News
Gulch Distillers is a small, start-up, grain-to-glass craft distillery in Helena, MT. We have been in operation for over four years and produce vodka, rum, fernet, apple brandy, several gins, and the odd small-batch, limited release, experimental spirit. Our spirits are distributed throughout the state of Montana and have earned national recognition from the American Distilling Institute, American Craft Spirits Association, and Liquor.com.
In conjunction with our production facility we operate a tasting room which serves as the Gulch Distillers brand headquarters. We provide samples of our spirits, tasting guidance, spirits education, and cocktail samples meant to showcase how our spirits may be enjoyed in a home or bar setting. We aim to provide a unique, enjoyable, and educational experience within the legal provisions for a distillery tasting room in the state of Montana.
We are looking for a friendly, self-tasked, detail-oriented candidate seeking a fun and creative environment for a head bartender position. This is a full-time managerial position that fills five shifts per week.
Qualifications and Experience
Candidate must be at least 21 years of age
Candidate must possess or be willing to obtain Safe Serve certification
Must have significant customer service experience
Bartending experience a plus
Artistic background a plus
Attention to detail
Ability to multitask and keep calm under pressure
Responsibilities
Design cocktails, particularly weekly cocktail specials, using our line of craft spirits and house-made syrups and mixers
Abide by all state laws regarding the responsible serving of alcohol and license restrictions of a distillery tasting room
Provide for a positive customer experience at all times
Educate customers on distillery products and cocktail program
Maintain a clean and sanitary work environment both behind the bar and in the tasting room
Manage inventory of ingredients, supplies, merchandise, and house-made syrups, juices, and mixers
Opening and closing the till
Compensation depends on experience.
Interested candidates should apply below with a resume.
Posted on February 17th, 2019 in
News
American Craft Spirits Association, 15 February 2019
MINNEAPOLIS, MN (February 12, 2019) – Last night, the American Craft Spirits Association (ACSA), the nation's only national registered non-profit trade association representing the U.S. craft spirits industry, announced the winners of its Sixth Annual Judging of Craft Spirits, who were honored during the Awards Dinner as part of the Sixth Annual ACSA Distillers Convention and Vendor Trade Show at the Hyatt Regency in Minneapolis, Minn. Medalists were hand-selected among a pool of nearly 500 entrants.
During the event, which was sponsored by Total Wine & More, ACSA proudly bestowed the evening's ultimate honor, the Best of Show Award, to Gulch Distillers of Helena, MT, for their Burrone Fernet. Eli Aguilera, Total Wine's Senior Vice-President of Merchandising, provided remarks to the crowd to kick-off the dinner, and Maggie Campbell of Privateer Rum (MA) emceed the event, having served as the Judging Chair.
The annual Awards marked the official opening day of the 2019 ACSA Distillers Convention and Vendor Trade Show, which attracted nearly 1,000 producers and suppliers from across the U.S. for two full days of immersive educational seminars and networking events.
This year, entries were submitted from 38 states and the District of Columbia across the country in six main categories: Whiskey, Gin, Rum, Vodka & Grain Spirits, Brandy, and Specialty Spirits. In addition to a Best of Show and the Best of Class Distinctions, the judging panel awarded 8 Gold, 68 Silver, and 171 Bronze medals.
The 2019 Best in Class distinctions, the highest honor in each of the six judging categories, were awarded to a mix of both established, award-winning distilleries and younger newcomers. These winning distilleries were each presented with hand-carved barrelheads courtesy of Thousand Oaks Barrel Co, and all medal recipients received custom medals generously provided by Apholos. The Best of Show recipient, Gulch Distillers, was also awarded with a custom snowboard from Gilson Snowboard & Ski Co., whose Founder and CEO Nick Gilson served as the convention's keynote speaker earlier in the day.
This year, ACSA also introduced a new award category: the Innovation Award. The new "Innovation" category aims to recognize remarkable spirits whose flavor profiles may stray from their category's signature notes.
Posted on February 17th, 2019 in
News
By Maria L. Kirkpatrick, Helena Independent Record,15 February 2019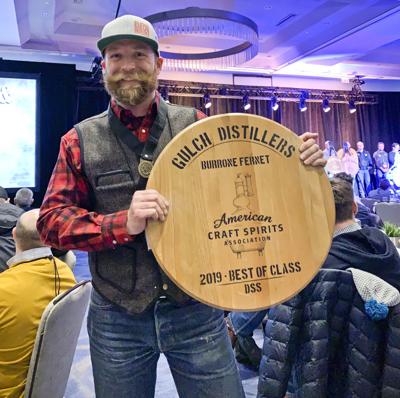 Gulch Distillers brought home a few medals from the 2019 American Craft Spirits Association's competition. The competition welcomed nearly 500 entries from 38 states and the District of Columbia in six categories: whiskey, gin, rum, vodka and grain spirits, brandy and specialty spirits.
The association is the nation's only national registered nonprofit trade association representing U.S. craft spirits. The competition is so strict that medals are not awarded for categories with entries that don't meet judges' expectations.
Gulch Distillers won Gold, Best in Class and Best in Show for its Burrone Fernet, a distilled spirit specialty. Best of Show is the ultimate honor bestowed at the event.
Posted on January 24th, 2019 in
News
By Amy Zavatto, published by Liquor.com 21 January 2019
Minnesota fernet? Pineapple amaro? Our collective thirst for the Italian liqueur amaro is no bitter pill. So fully have we embraced the low-alcohol, bark and botanical-based digestif that it was only a matter of time before American-made versions began to blossom.
Around the turn of our current decade, companies like Root in Pennsylvania and Leopold Bros.in Colorado launched some of the first serious forays into the domain of digestifs. Today, producers from Buffalo to Los Angeles are on the forefront of a second wave of homegrown amaros. These are 10 standouts to check out right now.
…
4: GULCH DISTILLERS BURRONE FERNET
Started by Tyrrell Hibbard and Steffen Rasile in Helena, Mont., in 2015, this impressive fernet is a beautifully balanced blend of saffron, chamomile, mint, myrrh, rhubarb and other local botanicals macerated in a Montana-sourced grain base. Not only are the intense but well-mingled flavors harmonious, but the finish leaves you with a just-right restrained bitterness in this 71-proof amaro. "Amaro is the main reason I got into the distilling business," says Rasile. "I was always amazed by the wide variety of flavors and complexity of a single category liquor."
Posted on October 22nd, 2018 in
News
By Bliss Zechman, KFBB, published 27 September 2018
One distillery is turning local apples into alcohol. Our Bliss Zechman explains how Gulch Distillers in Helena is relying on the community and not a company to make one of their popular products.
Apple brandy is one of America's original spirits. Workers at Helena's only distillery say the brand of brandy has fallen out of popularity over the years. However, they're trying to bring back the brew in a unique way.
"This project in particular is a great way to bring the community into the production of a product," said Tyrrell Hibbard, Co-Owner of Gulch Distillery.
Posted on October 16th, 2018 in
News
If you live in Illinois you can now purchase our products through the online retailer Big Fish.
Posted on October 15th, 2018 in
News
By Gail Nickel-Kailing, Published by Good Food World 5 October 2018
Like most good ideas, Gulch Distillers' Purple Prairie Barley Whiskey started with a conversation and the question, "What if…?"
In late 2016, Tyrrell Hibbard (co-founder of Gulch Distillers) and I sat down to talk about the newly-renamed company. It had been called Triple Divide Spirits when Tyrrell and his partner Steffen Rasile bought it in 2015 and then re-branded it a year later.
The discussion wandered, as interesting discussions are wont to do, and we covered some of the fine details about making spirits. To distill spirits, you work with a biological process to make an appealing product and each ferment is different from the previous one and the next one.
These are "yeastie beasties" working in the vats and differences in environmental conditions, cultures, and grain batches are just a few of the variables in the equation. The distiller has to manage the delicate balance between living creatures and chemical processes that can challenge the skills of a distiller. It's in managing that balance that the distiller truly demonstrates his/her craft.
Like good bread and good beer, good spirits come from carefully managed natural processes. And the very best fermented food and drink comes from skilled hands using ingredients from known and respected sources.
Grain-based products – like whiskey – can be made with any cereal grain including wheat, barley, rye, and "wheat relatives," like spelt and emmer. All of which are grown in Montana. However, Gulch Distillers uses only Montana-grown grains in their grain-based spirits.
My next (logical) question to Tyrrell was, "How about making some whiskey out of purple barley?" And the only answer could be, "Sure, let's see what happens!" Timeless Seeds, Ulm MT, has grown, processed, and marketed barley with deep purple bran and a dark kernel for more than 15 years. I've worked for the company for the last 5 years, so I had to ask (of course), "How about partnering with Timeless to make whiskey out of our Purple Prairie Barley®?"
Posted on June 28th, 2018 in
News
By MTN News, June 26, 2018
HELENA – Agriculture is Montana's leading industry and in Helena, two guys are using their ag roots to distill a product from soil and sunshine.
Montana is a beer drinking state with new breweries popping up in every corner. But two guys, Steffen Rasile and Tyrrell Hibbard, are trying to change the game.
"Raising the awareness of the cocktail culture in this town," Rasile said.
Gulch Distillers is a nod to the history of Helena's gold mining days and is nestled in the heart of town. Rasile and Hibbard have been friends for many years and have always had a spirit for spirits.
"Creating unique spirits that can work well in cocktails has always been fun for me," said Rasile. Hibbard added, "We're concentrating the character and the properties of those products into something beautiful and enjoyable."
After years of discussions, they decided to take their passion to the next level and open their business. Three years ago the two guys bought the business that was then known as Triple Divide Spirits. The next step for them was to buy a still that took more than a year to arrive.
"So it gave us about 18 months to get our act together and figure out what we were going to do with it," Rasile said with a laugh.
Gulch has many of the usual options, like vodka, rum, gin and even a new apple brandy.
"And that's all apples grown in the Bitterroot," added Rasile.
There's even a spirit you may have never even tried – Fernet, which is an Italian style liquor.
Rasile explained more about Fernet, which he said is, "Very commonly drank after dinner to settle your stomach down."
There are 18 botanicals in the fernet recipe and the gulch guys are one of only ten other distillers in the country to create this spirit. With so many different ingredients, it's hard to source everything from Montana.
But, "We've got fields of mint growing in our backyards," Rasile said with pride.
Scanning through the shelves, there is one thing noticeably absent: Whiskey.
"We've been making whiskey since day one and we haven't released any yet because we want to do it right," Rasile said.
That's right. Behind the tasting room, whiskey is aging in barrels just waiting to be served. But anyone looking for Gulch whiskey will have to keep waiting.
"It's tasting delicious, but we would like to give it a little more time," said Rasile.
The quality of the ingredients is important to the Gulch brand just as is educating the public about cocktail culture.
"It's not difficult to have a good bar in your house. It doesn't have to be expensive and you can make really nice things and we like to show people how to do that," Hibbard said.
There are currently 35 drinks on the menu and those offerings change seasonally. When Rasile and Hibbard aren't serving, teaching cocktail recipes or running the still in the back, they are working their full-time jobs.
Rasile is a web developer and Hibbard is rancher just outside of Helena.
"I mean it all starts from a raw, agricultural product," Hibbard explained, noting the similarities between distilling and ranching. "It's a product of soil and sunshine."
"This truly is a passion project for both of us and the only way that it really works is through that partnership," added Hibbard.
"We love Montana and we wanted to highlight the Montana grown products and make alcohol out of it," Rasile said.
If juggling full-time jobs and distilling award winning liquor wasn't enough to keep them busy, Rasile also competes in beard competitions.
"I'm currently the world silver medalist in the freestyle sideburn category," he said with a chuckle.
Currently, he's training for the World Championships, adding, "It's been a really big passion of mine. It's been a really great way to travel around the country and see a lot of my bearded friends and win some awards."
The Triple Divide Vodka is the most popular spirit the Gulch distills at the moment. You can find at least one product of theirs in almost any liquor store across Montana, in an online retailer for Illinois residents and a few bars in Seattle.
Reported by Mikenzie Frost
Posted on June 4th, 2018 in
News
Greetings from the Gulch! It's the season to produce, and as the saying goes we like to make hay while the sun shines. For our customers that means an upcoming variety of events and distilled Montana sunshine both in and out of the tasting room. Read on for information on our Apple Brandy, Tiki Tuesdays, currant vodka, and cocktail classes. Here's to a productive and enjoyable summer for all of us!
Steffen & Tyrrell
Gulch Distillers
Fruition Brandy is Back!
Early last year we scooped up some surplus MacIntosh apples from a grower in the Bitterroot Valley. We made a lovely hard cider that we then distilled twice through our copper pot still. We laid that spirit to rest in American White Oak casks and the result is a beautiful, clean and balanced spirit with light cinnamon and honey notes, and we cannot wait to share it!
Join us in the tasting room for our release party on Monday, June 11th. Our neighbors at Bad Betty's are also getting into the spirit for the release: they are going to feature applewood smoked BBQ and Drunken Apples, so grab your BBQ and pair with a craft brandy cocktail.
Tiki Tuesdays
Even if you missed out on our Smoothbore Rum release, you can still enjoy some of this quality 2-year aged rum. While supplies last we are celebrating all things tiki every Tuesday in our tasting room. This smooth, rich spirit boasts notes of orange peel, vanilla, and hazelnut and is a one-off, limited bottling. Join us each Tuesday for Tiki Tuesday to indulge in tiki specials like the Mai Tai, Smooth Sailing, Piña Colada, Rum the Jewels, German in Paradise, Mojito, well you get the idea. Wear a flowered shirt and receive a dollar off of any tiki cocktail!
Or pick up your own bottle any other day of the week to enjoy at your own backyard barbecue. 750 mL bottles of our Smoothbore retail at a cool $31; 375 mL bottles sell for $17. And once they're gone, they're gone.
Gulch Distillers Celebrates Big Sky Pride
In case you haven't heard, Big Sky Pride is coming to Helena this month. We thought we would get in on the fun and make something colorful, flavorful, and distinctly Montanan. So in conjunction with Big Sky Pride, we will release a limited bottling of Currant Vodka.
We distill our vodka from Montana-grown grains–when we infuse that with currants grown outside of Choteau, the result begs enjoyment. This special spirit will be available in the tasting room and at select bars in Helena.
Want more?
Sign up for one of our free monthly cocktail classes. Held at high noon on the third Saturday of the month (with the exception of this month's class) we invite customers to join us for an hour-long discussion and demonstration on a specific mixology topic.
Next Saturday we revisit an old favorite: Amaro Like There's No Tomorrow. Sample a variety of bitter liqueurs and pick up tips on making your own. In July we will look at another important cocktail ingredient: Shrubs. Learn what they are, how to use them, and how to make them. Finally, in August we will look at basic mixology techniques: Shaken vs. Stirred.
Classes are free but registration is required to save your space. Register on our website to claim your seat at the bar.
Posted on April 30th, 2018 in
News
By Claire Bachofner, The Local Helena, April 30, 2018
I dare you to find a place more "local" than Gulch Distillers. Owned by two heartful Helena natives, Tyrrell Hibbard and Steffen Rasile, every batch of grain-based spirits are made using only Montana-grown grains in a facility that was once the Montana Distillery and Bottling Warehouse. The names of the spirits are locally inspired. Every cocktail contains locally grown produce whenever possible as well as house-made syrups and shrubs. The artwork is local, the website is local, the locals are local. Okay, you get it. LOCAL. What's more? It's all really, really good.